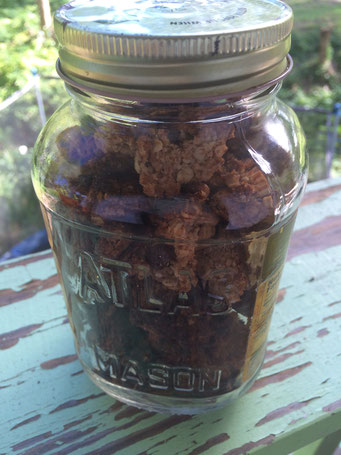 Ingredients:
3 very ripe large bananas well smashed.  Set aside.
2 cups old fashioned oats / rolled oats / oat bran / or a mixture of all of them.
2/3 cup almond meal (simply grin some almonds in a blender)
1/2 cup unsweetened coconut
1/2 teaspoon cinnamon
1/2 teaspoon Himalayan salt
1 teaspoon aluminium free baking powder
1 cup chocolate chips (whichever you have at hand, but sugar free best)
1 teaspoon vanilla
1/3 cup coconut oil
Mix all dry ingredients in a bowl.   Add the smashed bananas, vanilla and oil.  Mix until well combined and add the chocolate chips last.
Spoon the dough in a baking tray and bake as you wish.   Some people like them soft and some people like them crunchier.     They freeze wonderfully and are ready to eat in no time!
We truly enjoy this recipe very often at home.   Bananas is one of those fruits we always have at hand.   I have made several variations of this recipe as I am moving around the world and some ingredients can be easier to find then others ...  Surprisingly as it is, for example, shredded coconut looks so different from country to country.   In some parts, only sweetened coconut can be found, and in other countries, a very small shredded one with almost no flavor!  So when I find a good unsweetened shredded coconut, I feel joyful and lucky!.   
I love to work with whole foods closer to their purest form, but even that has to be compromised from time to time.   Oats is a staple food anywhere in the world, every nation on earth knows it, uses it and truly enjoys it.  But the white quick oats can be so much cheaper then the old fashioned and the whole grain.    So I buy what I find and play around.  At the end of the day, the experience itself makes me feel enriched.  One more stripe of knowledge for the tigress within me.
I must confess that this recipe is not my own original, however, as I change it and transform it due to the circunstances around me, it does feel like it.   The original recipe can be found in Heidi Swanson page www.101cookbooks.com
Be aware that substitutes are allowed, I have tried it and tested.  So feel free to ask for any possible variations you might need.  They NEVER dissapoint!